Top Vegan Ice Cream Recipes to Try at Home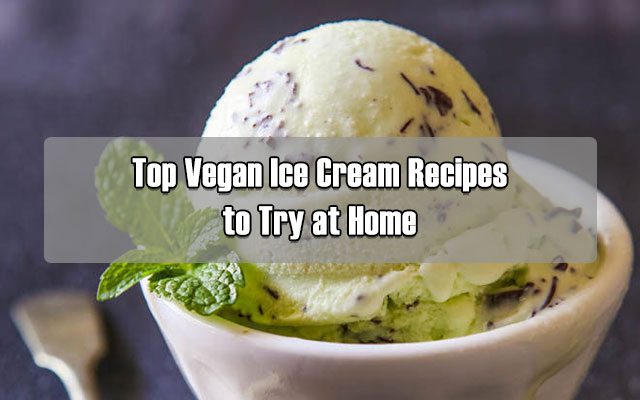 Who say that ice cream can't be a vegan's best friend?
And who say it's impossible for those who want to lose weight?
I understand that vegan us can't use milk from animal, which means we don't have chance to try those normal ice creams made from such ingredients. However, with some small changes, and spend some time in your kitchen, you can totally possible to enjoy some own ice cream at home.
Guarantee: They are super easy to make, good for your health, dairy-free and importantly, very delicious. Now, let's get started!
Mint Chocolate Chip Ice Cream
Ingredients:
Cashew
Full-fat coconut milk
Mint extra
Vanilla extract
Sugar
Salt
Mint leaves
Chocolate chips
How-to
First up, you need to have a cup of cashew well-grinded with a cup of coconut milk. (I highly recommend to purchase coconut milk packaged in can, not in carton because if you put it in the fridge overnight, it separates the fat from the liquid).
Although coconut milk is vegan and dairy free, coconut is still fat. And while it's bad fat like nuts and avocado, it's essential to use in moderation. Remember to flip and refrigerate the full fat can of coconut milk overnight and always open it from the bottom
After you get a super nice mixture, now add some sugar in. I mean you can use any sweetener due to personal preference, might it be coconut syrup, maple syrup or agave. Then, add 2 tsp of mint extract, 2 tsp of vanilla extract, a pinch of salt to bring out all of the flavors and lastly, for a little bit of color, we're going to add some mint leaves. Now, grind them up!
Based on different tastes, I highly recommend you to taste it and see if it's minty enough and sweet or not. After getting perfect flavor, transfer ice cream base into an ice cream maker, turn it on for a couple of minutes. Remember to add a little bit ice cream base in to the machine to get a perfect texture.
After all ice cream base is transferred into the machine, start adding some chocolate chips into the bowl (about ½ to 1 cup).
After 30 minutes, you will get this amazing creamy which is almost like soft-serve. You can totally go longer and put them in a freezer to get harder texture, but I'd like this one.
Now, what if you don't have an ice cream maker? Don't fret, I will have some other recipes that require no machine at all. Try it out!
Vanilla vegan ice cream
Ingredients
Full-fat coconut milk
Light coconut milk
Vanilla
Sugar
Vanilla extract
Vanilla bean
Coconut flour
How-to
Start off with the full-fat coconut milk, you need to refrigerate it overnight and just remove the water. Pour the rest in a mixing bowl, add one can of light coconut milk in. Now, that's the base!
Now, there might some people wonder if increasing the amount of light coconut milk while reducing the full-fat is okay. I know some of us don't like fat food and are on diet to lose weight. It's okay with such adjustment but be alert that the ice cream won't be as creamy as the original recipe.
You need to add some flavor: add ¼ to 1/3 cup of sweetener. I prefer white sugar but you can change it to syrup due to personal taste, but kindly avoid changing the vanilla color (I mean the ivory color)
Then, add 1 tsp vanilla extract, 1 vanilla bean (or paste).
Now, grab your hand mixer and whip them up. To thicken the mixture, you should add some coconut flour (roughly 2 tbsp until well combined). Next, just put it in a freezer and let it sit for about 3 to 4 hours before serving.
Thumbs up for dairy free!
Strawberry vegan ice cream
Ingredients
Full-fat coconut milk
Light coconut milk
Sweetener
Strawberries
How-to
Before grinding all strawberries in a Food processor, it's advised to add some water to help them blend up better. I don't like blend mine up too much because I like a few chunks in my ice cream. Start with these same bases as before.
One can of full fat coconut milk (that's already removed all water) + one can of light coconut milk + ¼ or 1/3 sweetener + blended strawberries.
Use your hand mixer once more to whip it on up and again, to thicken it, add 2 tbsp of coconut flour. Once it's combined, you can transfer it to a freezer. When it's done, you will get a smooth textured ice cream with delicious flavor.
Mango coconut ice cream
Ingredients
A ripe mango
1/3 Cup of full-fat coconut milk
An orange
How-to
Begin with cut all fresh juicy mango, add them into a blender cup. Then, cut the orange into halves, taking out some seeds and stabbing it a few times so it will juice much easier.
Next, adding some coconut milk and blend it up until it's completely smooth.
Then, spoon the mixture into an ice cube tray to chill for at least an hour. I like using an ice cube tray than just a bowl or something because it's going to be faster. So, I can enjoy it faster.
Once frozen, you can put the mango mix back in the blender, you can use a knife or something sharp to get those cubes loose.
Then, add the juice from the other half of the orange and blend.
Tip:
Now, your blender sometimes gets suck a little bit because too many stuffs inside or the mixture don't get enough moisture, you can shake the machine evenly or add some water to help it work better.
Now, just ready to enjoy it!
After those four recipes of vegan ice cream, you might wonder if it tastes like coconut. Well, the answer is obviously yes, because the base is coconut milk. If you do like coconut like me, it's worth trying. But, on the contrary, I know that some of us don't like it at all. I have one more perfect alteration for you:
Banana vegan ice cream
Ingredients
Frozen bananas
A mixed berry of choice
How-to
Now, why I choose frozen bananas?
In fact, it's better to cut them into chunks, too because they help a lot in blending up with other ingredients easier in a processor as well as the flavor is better.
And, it's a good idea to let your frozen bananas thaws within 15 minutes before you blend it up.
Start off with adding your frozen bananas chunks into the food processor and then, you add your mixed berries of choice. (My favorite is strawberries and blueberries)
Blend it up until it reaches a nice smooth consistency. You can devour as is but I prefer to return it to the freezer for about 30-45 minutes just to firm up a little bit. So, I can scoop it out and enjoy it on a cone like traditional ice cream.
You can try the similar recipe with chocolate hazelnut spread, the taste is awesome. Here is the formula:
Frozen chocolate chunks + chocolate hazelnut spread
Then, let it sit in the freezer in 30-45 minutes to have a firmer texture ice cream and ready to enjoy.
Now, it's time for you to make your own delicious, easy and healthy vegan ice cream at home and experience the feeling of "Heaven there!".