Top Healthy Smoothie Recipes You Should Try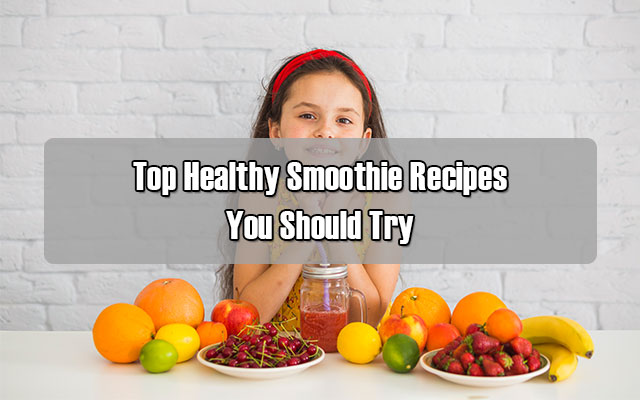 Smoothies are always considered a delicious drink with countless benefits for health. Their ingredients, nothing else, are fresh fruits and green vegetables, which is also a good source of vitamins and fiber.
Today, I will share to you some wonderful, green and healthy recipes to make smoothie to soup up your daily meals and also, make you feel better. (Note: I also enclose some smoothie recipes for particular purpose, like weight gain, weight loss and vegan). Don't miss out!
Blood builder juice
Amaranth is rich in iron and is a powerful aid to the body in building blood cells, providing oxygen to the cells in the body. Along with the available copper in the Amaranth, iron is more easily absorbed. Amaranth juice also helps lower blood pressure.
This formula is special because after juicing the Amaranth, apple, carrot and lemon, mixing it with the avocado that has been blended finely (so you will need two machines), the taste is incredibly awesome.
I like the formula juice + blend. In the presence of avocado fruit, this drink has both sweet taste from apple, the taste of the Amaranth, balancing the sourness of lemon and a creamy texture from avocado. In terms of color, it is always as colorful as any dishes made of Amaranth.
Serve: 400-500ml
Time: 20 minutes
Ingredients
2 Apples
2 Carrots
½ Amaranth
½ Lemon
¼ Avocado
How-to
Peel off the apples and remove its core and seeds (You can use an apple multitool to save much time on this step. It's quite cheap yet efficient!)
With carrots and Amaranth, after peeling them off, cut into pieces that fit the juicer's mouth. About the juicer, to take advantage of all nutrients in the fruits and preserve the juice longer, I highly recommend you to choose a good slow juicer.
About lemon, choose the non-seed type, you can either remove or not remove their shell based on personal preference. But I myself usually leave its outer skin for more fragrance.
If your nearby supermarket doesn't sell the non-seed type of lemons, remember to juice them, place aside to avoid juicing their seeds because of their bitterness.
Avocado, you should choose the good ones, which I've already shared in my latest article. Take a peek there. Choosing taste avocado is almost a must because if they come up with bitterness, it will ruin your juice.
Now, juicing time! Start with apple, Amaranth, carrots and lemon alternatively.
Blend this juice with the finely grinded avocado. Drink fresh!
Slimming smoothie
Never before have I seen the keyword 'weight loss' appearing so much like recent time. It feels like everyone is crazy of this, especially the women. But, it's easy to understand!
Nowadays in urban areas, the life of excess protein, energy and weight while lacking of exercise is not rare. And people are too overwhelmed to believe that their solution is right in the avalanche of weight loss products, methods, services, needs and aspirations.
Speaking of this issue is a too broad topic. In this part, I mainly introduce the formula while the proper guidance, there will be a separate article to talk about that.
This formula is called Sliming smoothie, which is a combination of vitamins and juice. The ingredients are juiced and then mixed with avocado pulp. So, use both the juicer and the blender. If you only have a blender, you can try it all over. (But truth to say, it's hard to drink than juice because of too much fiber from those hard-to-grind veggies like celery).
If you want to add-in this smoothie to a meal, you already have one-third of your whole day's servings from fresh vegetables. Take notice that this is a very slow way to lose weight, or do not be too hopeful, drink and feel and let the body enjoy the green energy in the morning. If you do not lose weight, at least you are eating healthy.
This formula will provide extra vitamins, minerals, enzymes, healthy fat and good amino acids. If you are hungry, the next time you can add a little bit of grain, or a little oatmeal to eat, or some more fruits as a snack.
You should drink it in the morning. For example, in the early morning, you drink a glass of warm lemonade honey, exercise 30p and make a glass of this, it will be very refreshing because the energy from fresh vegetables will be very different from what from cooked food.
Serving: 300-400ml
Time: 20 minutes
Ingredients
2 apples (wash and peel off)
2 branches of celery
1 cucumber (peel off)
1 lemon (non-seed type)
1 ginger 2-3cm long (wash throughout and peel off)
½ avocado pulp
How-to
Juice the apple, celery, lemon, ginger, and cucumber. Puree the avocado pulp then mix with the juice, sprinkle chia seed. If you want more sweetness, add more apple.
Drink fresh. You can drink some ice cubes to drink more deliciously or double up the recipe to drink in the side meal. It's up to you!
Matcha green smoothie
If you like the taste of green tea latte tea, you will definitely enjoy this smoothie.
It's even more preferable – due to its more nutritional benefits offer to your health with less fat. This is the sum of a green smoothie and a tasty drink. In addition, the recipe is very simple, including only four ingredients, the juicing time takes less than 5 minutes (if the material is ready).
The use of matcha has been studied and widely known today. Matcha must be the Japanese green tea powder, produced in this country to bring their unique taste and attractive smell.
The benefits of matcha can be summarized as follows:
High antioxidant content of Catechins (EGCG), an effective substance to cancer resistance, helping to neutralize free radicals that directly affect cells
Helps to relax, increase memory and concentration
Support for weight loss
Strengthen the immune system
So, I also use matcha for cakes, desserts, panna cotta and drinks. Delicious, fragrant, attractive and good for health, so, why not?
The formula below is suitable for the days that you know you need to focus, work mind, movement and achieve high results. Believe me, you should not ignore this recipe!
Serving: 400-450 ml
Time: 5 minutes
Materials
1 teaspoon of matcha powder
1 cup of almond milk (or cow's milk or any milk you use, if you use almond milk, you have a vegan version)
1 cup of spinach
1 frozen banana (with overripe banana, don't thrown them away, just peel and freeze them, extremely convenient to add-in smoothie because they will take the role of ice cubes to cool down the drink)
How-to
Put all the ingredients in a blender and press the button for about 1 minute to have a fine texture mixture (pause the machine in the middle of the process if needed). If the drink is a little bit dense, add milk. Drink immediately.
Coconut & young rice smoothie
I'm a big fan of this drink!
Young rice, which is the top of the Asian cereal. You can eat them raw, very delicious. Coconut milk is another of my favorite drink. Combine with bananas, there, the whole classic ingredients that I have just thought of recently. Last but not least, add some veggies to deserve the name "green smoothie".
Try it and experience the unique fragrance of rice and coconut, the texture of young rice, fatty flavor of coconut milk, sweetness of bananas, the light green from vegetables.
Absolutely no added sugars, 100% vegan. Particularly, you can have it instead of a meal.
Serving: 400-450 ml
Time: 20 minutes
Ingredients
½ cup of fresh cereal (about 30gr)
1 cup of coconut milk (about 250ml).
A frozen banana
1 tsp of pure coconut oil
1 small pinch of spinach (optional). If you do not use vegetables, then your coconut shake will not be eye catching at all.
How-to
While the other smoothie recipes just take about 5 minutes to have everything done, this one will take more time – up to 15 minutes to soak and soften the young rice. It's best to soak them in coconut milk. After that, add all the ingredients into a blender and puree them. I divide the process into two times pressing the button, the whole time taking is around 1 minute.
Next, transfer the smoothie into a cup, sprinkle with some coconut flakes and ready to serve.
Note:
If you don't use frozen banana, kindly add some ice cubes to cool down the drink for better taste. Preserve in the fridge for maximumly a day but be aware of their texture that might be a bit denser than the origin because the young rice dilates up. You can add some milk or coconut liquid to loosen the mixture.
Piña Colada green smoothie
Piña colada is one of the most popular cocktails in the world, originating in a hotel based in Puerto Rico in the 1950's to serve those wealthy Caribbean tourists. Piña colada's classic flavors would not be completed without coconut milk, pineapple juice and rum, poured in a nice cocktail glass decorated with pineapple, cherry and a small paper umbrella.
No doubt, pineapple and coconut are always their best friend (at least to me). The recipe below is the green version of piña colada, which means there are fresh green vegetables. Fatty coconut milk provides healthy fat to keep you full longer while pineapple contains a lot of bromelain (a substance only rich in pineapple) to help reduce belly fat. Besides, the rich content in vitamin C of pineapple helps stimulate your immune system as well as absorb iron contained in the vegetables better.
In this recipe, I use kale leaves. If you do not like eating kale, replace it with spinach. I do not give rum, but if you are a die-hard fan of pina colada, add a little bit rum into the recipe. Do not feel guilty.
If you use this drink as an alternative for your breakfast, add oat or grain. You can juice the pineapple before pureeing instead of using the whole piece of pineapple.
Ingredients
2 kale leaves or 1 small pinch of spinach
5 cups of coconut milk
(you can add water to loosen the drink depending on your preference)
1/2 large pineapple, sliced (about 2 bowls of sliced pineapple)
1 frozen banana
How-to
Cut vegetables into small pieces, the same as pineapple. Put all the ingredients into the blender, puree finely about 1-2 minutes, dividing the process into 2-3 times.
Pour out to a cup and enjoy.
Note
It is advisable to use frozen pineapple, otherwise, you can add the ice cubes while pureeing to cool the drink down.
Passion 4 Spirulina
This can be considered as a blend formula (combine between smoothie and juice) that impressed me the most ever. Even though I have tried many smoothie recipes with juice, this one is still very good because of its simplicity: the creamy smoothness of yogurt, the fragrance of pineapple, banana, and especially, the blue color from spirulina algae (not to mention to its nutrition).
I know this recipe when implementing the 7-day juice cleanse program (7 days detoxified with juice). Thanks to Juice Master for thinking of this recipe so that I can vary my smoothie recipe menu. For those who are a vegan, if you do not have vegan yogurt, skip it and start pureeing pineapple + fresh cashew nuts (softened).
The recipe below has been modified slightly from the original formula based on my own experience.
Ingredients
1/4 large pineapple (1/2 small pineapple)
1 apple
1/2 banana
100g no-sugar yogurt
1 fresh spirulina algae
How-to
Juice the pineapple and apple
Puree the yogurt, banana and spirulina algae with the pineapple and apple juice. This step just takes around 15-20s to get a fine texture, unlike the green smoothie with vegetables.
This dish uses two machines: juicer and blender. Whenever you have a blender, you can puree all the ingredients, but the finished product will be more fibrous and less smooth as when you use with the juicer.
Why is this good?
Bananas are a potassium-rich source of energy, which promotes muscle growth, mental alertness, and blood pressure control. Spirulina is arguably as a super food with a lot of minerals, including iron and calcium which are the highest source of natural B12. Pineapple contains bromelain which helps to fight inflammation while the high levels of vitamin C to enhance immunity.
For those who want to gain weight, don't miss out this recipe and also my other articles.
Belly Soother papaya green smoothie
Papaya is the specialty fruit of tropical climate countries. Ripe papaya is sweet and fragrant to be perfect as a smoothie, you should the ripe one, but the underripe or overripe. And the mix, it's perfect to go with other tropical fruit such as mango, pineapple and banana.
Papaya is rich in vitamin C, antioxidants, vitamins A, vitamin E, and vitamin K, especially the enzyme called papain is able to support digestion and reduce constipation.
Combined with green vegetables and yogurt, this is a wonderful smoothie to deal with bloating or indigestion. In addition to yogurt, you can add other plant milk (like coconut milk and almond milk) to have more dilute and more vitamins (do not use cow's milk with this smoothie to ensure the benefit of digestive support).
Ingredient:
1/4 papaya (about 1 bowl of chopped papaya)
1 box of sugar-free yogurt (Greek yogurt is good, 1 cup)
1 cup of spinach (or lettuce)
1/2 lemon (juiced)
1 teaspoon of honey (optional)
How-to
Blend all ingredients in 1 minute. Add ice cubes then blend one more time to get a fine mixture if you want to drink cool.
Note: Pay attention to picking softly ripe papaya, not the overripe or underripe. If using sugared yogurt, do not add honey.
Creamy Pumpkin
Pumpkin – my love!
Do you know that juicing allows you to consume many kinds of vegetables that are not your favorite or even hate?
For example, pumpkin. I'm sure that 100% I can't eat pumpkin raw. However, with pumpkin juice, OMG, I can drink it daily. Who need the orange juice, just a cup of pumpkin juice every day is enough.
Pumpkin is a common vegetable that is safe and cheap. With the thick outer skin, we can completely buy pumpkins in the market.
Besides, it is easy to preserve. In room temperature, a pumpkin can last for a month. With the cut one, it last up to a week. Score!
Pumpkin is also a high nutritional food with many health benefits:
Rich in carotenoids, which is good for vision, slowing aging and beautiful skin.
Rich in B complex vitamins that promotes brain activity, vitamins A, vitamin C, vitamin E, calcium, copper, iron, and many antioxidants. Besides, help to reduce the risk of cancer.
Pumpkin can improve physical activities and reduce fatigue during exercise
If you want to try pumpkin juice, try this recipe. I assure you it's delicious, from the color to the taste. Also, very simple to prepare and carry out.
Ingredients
1 large piece of pumpkin (about 400gr)
1 big apple (choose the red color for sweet juice)
1 lime
If there are pineapples, add 1 to 2 pieces of pineapple
How-to
Add pumpkin, apple and lemon into the blender. The finished product is about 300ml. Often, I double the formula to drink it more.
This recipe is extremely juicy, delicious, sweet and creamy. So, I'm lazy to make pumpkin milk instead of juice it (you don't need to wash the ingredients) but it's still delicious.
Note:
Use the pumpkin thick and hard skin.
Peel and cut the long stick to fit perfectly the juicer's mouth, keep the pumpkin seeds. They are very nutritious and can be completely squeezed in a slow-press juicer.
Pure pumpkin won't extract much juice, it's pretty dense so, it's better to juice together with other succulent fruits. It's also perfect to mix with other yellow fruits (like sweet potato and carrot) and vegetables (for examples, kale, spinach and beetroot), of course sweet fruit (such as apples, pears, pineapples, oranges and mangoes) and very fit with lemon
Pumpkin must be juice raw. All ingredients should be juiced raw without effect of heat or processing. Pumpkin should only be used in smoothies and desserts.
Pumpkin pie smoothie
However, if you don't have a juicer, kindly try this smoothie.
If the pumpkin juice is fragrant, the pumpkin smoothie is extremely smooth. I believe once you try it, it can be a permanent drink for your family breakfast, or whenever you need a sweet yet healthy drink.
Pumpkin juice uses raw ingredients while its smoothie need cooked ingredients. It is best to steam to keep the original sweetness of the pumpkin. You should put a few large pieces into a freezer (these are enough for one serving of about a bowl).
Whenever you like to make smoothie, just bring them out to puree. They are not only cool to take the role of ice cube, but also add more volume to the drink, making it softer. Similar to bananas, I also freeze the ripe bananas, wrap each peeled unit in the food wrapper.
This recipe has pumpkin, a little banana to make it smoother and sweeter, sugar-free Greek yogurt honey, a small spoon of cinnamon powder. The liquid base is coconut milk (or, you can use cashew nut milk or almonds milk based on preference).
Ingredients
2-3 cup of cooked pumpkin (about 150 grams)
1 box of sugar-free yogurt (it's better to use Greek yogurt)
½ cup of milk (about 150ml)
¼ teaspoon of cinnamon powder
1 frozen banana
1 teaspoon of honey (optional)
How-to
Add all ingredients in a blender and puree them in 30-60 seconds. The amount of milk, much or less, is up to your personal preference.
Note:
It's more delicious if you use frozen banana or pumpkin. Otherwise, just add some ice cubes to add more volume and coolness to the drink.
Kale Lover green smoothie
Kale is one of the super foods that has been particularly praised and enjoyed in many Western countries, largely because of the benefits it brings. Can't deny, kale is very nutritious! This light, dark curly leaf contains up to 45 different types of flavonoids, which are rich in vitamins A, vitamin C and vitamin K, not to mention to minerals like iron, potassium and calcium.
According to draxe.com, on average a small cup of kale, containing:
Vitamin K (684% of daily intake)
Vitamin A (206%)
Vitamin C (134%)
Manganese (26%)
Copper (10%)
Calcium (9%)
Potassium (9%)
Vitamin B6 (9%)
Iron (6%)
Magnesium (6%)
Folate (5%)
Riboflavin (5%)
Thiamin (5%)
Phosphorus (4%)
Protein (4%)
Niacin (3%)
Zinc (2%)
Pantothenic Acid (1%)
Selenium (1%)
Sodium (1%)
Omega-3 fatty acids (121 mg)
Omega-6 fatty acids (92.4 mg)
In addition to juicing kale in your daily green juice recipe, one more way to use this vegetable is to add it to the green smoothie. However, because the vegetables are dark green and slightly bitter if used a lot, when adding to the drinks, you need to pay attention a bit to the portion to balance the taste.
The kale smoothie recipe below is also quite simple, with bananas and pineapples are two main types of fruit to create sweet, smooth and fragrant, soup up with some cinnamon and Palm fruits. Besides, you can use water, or milk, or coconut water at your discretion.
Ingredients
1 cup of finely chopped kale (about 2-3 leaves, when used in smoothie, they should be removed the hardening)
1 piece of pineapple
1 frozen banana
2 Palm fruits
200-250ml of water/milk/coconut liquid
1 teaspoon of cinnamon powder (optional)
How-to
Put the finely chopped ingredients into the blender, mix up in 1 minute. Drink cool.
Above are 10 recipes of green smoothie. One last tip to make your smoothie recipe more tasty and delicious is using at least one type of frozen fruit so that the drink is added more volume, smoother, cooler and softer. If you do not use frozen fruits, add ice cubes instead while blending.