15 Best Kitchen Knife Sets in 2019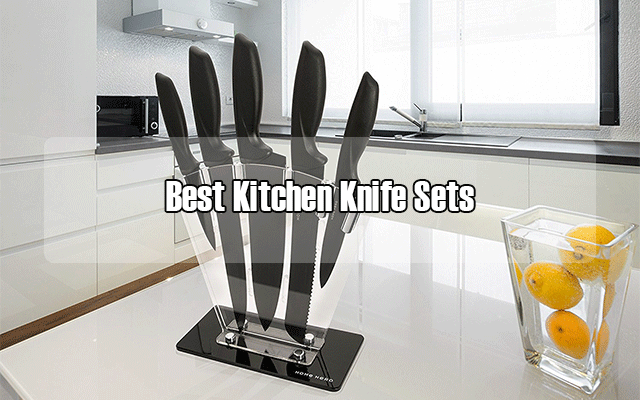 Anyone who loves cooking all know one fact which is the fact that the ones who got the good knives are the ones who make fantastic dishes.
There are many different types of knives that are used for different purposes, such as bread knife, chef's knife, butcher knife, carving knife, etc. Why having different types of knives for performing different tasks is so important? I'm going to walk you through the features of the most common knives so that you can choose the best kitchen knife set for yourself.
TYPES OF KNIVES
Chef's knife
Chef's knife is the most common one that is used to perform most of kitchen tasks such as chopping, cutting, slicing. This is a must-have knife in every kitchen, without it, everything seems to be more difficult.
A chef's knife usually has the convex curve near the tip with the edge sharpened. A normal size of the blade of a chef's knife is 15-36 centimeters (6 to 14 inches) long and around 3.8 centimeters (1.5 inches) wide. There's a small size of the chef's knife so it's easier for you to cut or slice small objects such as mushroom, baby tomato, onion.
Bread knife
The bread knife is sometimes called the slicer because people use this not only to cut the bread but also to slice meat or cakes. The bread knife has the serrated edge which allow us to cut the bread without changing its shape.
Steak knife
No need to say, steak knife is essential not for preparing food but eating. You will find it very useful when having meals since you can use it for any type of food, of course, not only for steak and sometimes as a spreader.
A steak knife normally is 2 to 3 inches long and smaller than 1 inch wide. One side of the knife's edge is straight and the other side has the serrated edge which in the end makes the knife sharp enough to cut cooked meat but not raw meat.
Cheese knife
Cheese knife is designed to slice through different types of cheese. This knife is not sharpened but the point is it has the hollow blade so that cheese cannot stick to the knife like usual.
Meat cleaver
Meat cleaver is one of the heaviest and biggest knives in the kitchen since it is used for cutting strong bones, chicken or big fishes. A cleaver normally has the size of 8-10 inches length and 3 inches width which is big enough for the toughest tasks.
Santoku knife
A santoku knife is similar to a chef's knife but it comes with a drop-point tip so it's easier for you to slice and chop.
Peeler
For me, peeler is incredibly important. Peeling potato, pumpkin or any kinds of fruit is so much easier with a peeler. There are 2 types of the peeler: one is also called bird's beak paring knife since it looks like a bird's beak, and the other type is actually a tool with 2 blades facing each other and that's used only for peeling vegetable.
Now, check out my recommendations for the best kitchen knife set!
Essentials set
1. Deik Knife Block Set, Kitchen Knife Set, Wooden Handle Chef's Knife, Stainless Steel Knife Set, Razor Sharp, 6 Pieces
kitchen knife set.
One thing that I like the most about this set is that it contains only essential knives including a chef knife, a carving knife, a bread knife, a utility knife, a paring knife, and a knife block. You will notice on the list that I would always prefer to choose the set that consists of only most common knives that I use them often, not those sets with a lot of different types of knives but I rarely use.
These blades are made from stainless steel X50Cr15 which allows perfect precision and accuracy. The handles texture is Africa pakka wood that is known for sturdiness and comfort. Highlight of the set is not the knives themselves but the block wood. This is the 360-degree rotatable hardwood block which allows you to keep your ipad, phone, or recipe while preparing food. For me, this convenience takes up a lot of my consideration when choosing the right knife set.
For long-term use purposes, you might want to buy this set with a 2-stage sharpener because less or more, you're going to need it even your knives are very sharp at the first place.
2. Kitchen Knives Knife Set with Stand – Plus Professional Knife Sharpener – 7 Piece Stainless Steel Cutlery Knives Set by HomeHero
It includes one chef knife, one carving knife, one bread knife, one utility knife, one paring knife, one 2-stage hand-held sharpener, and a crystal acrylic stand. All with only $20, I can tell this is one of the cheapest sets but with high-quality.
Black blades match perfectly with black handles, they look so nice on the stand. The blades are stainless steel and laser finished for a smooth clear look. The acrylic stand is a bonus point since you know how clean it is and it's easy for you to clean it when needed, unlike traditionally, we usually have hardwood block for knives which is not really hygienic.
The only complaint may be the handles' size, they seem a little bit bigger for those who have small hands, especially women.
3. Wüsthof – Three Piece Cook's Set – 3 1/2″ Paring Knife, 6″ Utility Knife, and 8″ Cook's Knife (9608)
Wusthof knife set
is exactly what you're looking for. There are 3 pieces only in total: a 3.5-inch paring knife, a 6-inch utility knife, and an 8-inch chef's knife.
This is among the traditional cutlery series of Wusthof that is designed for both professional cooks and home-cooking lovers. Traditional-style handles with triple-rivets for stability and permanence.
You get what you pay for. The set seems a little more expensive than other sets on this list, but it's worth the price. These are very sharp and sturdy which are suitable to perform any tasks effortlessly. Dishwasher is safe for these knives.
You can also buy this set with a 2-stage hand-held sharpener and a set of 3 blade guards for safety purpose. There's an option of a set of 2 knives: one chef's knife and one paring knife if you don't usually use the utility knife and want to look for a cheaper choice.
4. Shun Classic 6-piece Slim Knife Block Set
Shun knife set
is what you need. The set includes 6 pieces: a paring knife (3.5"), a santoku knife (7"), a chef's knife (8"), a honing steel (9"), shears, and an 8-slot wood knife block. You can also purchase the set with bread knife and utility knife for a full knife set.
The cutting core is made from 34 layers (each side) and stainless Damascis cladding which give you the incredibly sharp knives. The design is impressive by the patterns on the blades as well as the wood block thin shape. The handles are made in D-shape. They are strong, durable and moist-resistant.
In order to sharpen the knives, you can either sharpen your knife by using the honing steel that comes with the set or send it back to Shun to sharpen it and Shun will send it back to you without any charging fees.
Like any other knife set, it's highly recommended to hand-wash the knives as well as keep them in suitable condition for the best durability. Some customers have problem with not using the knives so often and they turn out not to be in the highest quality then those who use them more often.
5. Cook N Home 9-Piece Ceramic Knife Set with Sheaths, Multicolor
ceramic knife set
with ceramic blades and colorful sheaths and handles. The set includes a santoku knife, a utility knife, a fruit knife, a paring knife, and a peeler. A nice fact about the different colors of the handles is that you can easily distinguish them while preparing food which is much more convenient than those set with the same design.
The knives are made from ceramic which is harder than regular steel so that you don't have to sharpen them so often. These sharp knives give you the perfect cut.
The set's size is 11 x 7 x 2 inches and weighs 5.6 ounces which mean the knives are quite light. It's easy to hold it but at the same time, it's also the problem with this set which is the fact that you need to be a little bit more careful when using them since dropping or leaving them in the sink for a long time may loosen the handles.
With a very reasonable price, $20, this set is worth the money. Customers can also buy them with the set of 4 chopping boards in 4 colors that match perfectly with the knife set.
Complete set
1. Stainless Steel Knife Set with Block – 13 Kitchen Knives Set Chef Knife Set with Knife Sharpener
kitchen knife set
with 13 pieces with a 2-stage sharpener and a modern knife stand. The set consists of a chef's knife, a bread knife, a carving knife, a utility knife, a paring knife, a cheese knife, a pizza knife, 6 steak knives, a peeler, a scissors. Quick note: steak knives are serrated.
With a relatively low price, you can own a set of high-quality products. These stainless-steel blades are coated with nonstick paint helps avoid rust, stains or pitting. Along with that are the handles made from light plastic with slip-resistance, and thus, it's so comfortable to perform kitchen tasks. If you are always concerned about knives' weight and you want your knives a little lighter, these knives are the ones. On the contrary, some people prefer holding heavy knife which gives them a sturdier feeling. If you do, then you consider carefully about the set.
Highlights of this set is its unique design. All in black including blades and handles. When putting all of the knives on the knife stand, the who set looks so modern and it actually stands out.
Overall, if you're looking for a cheap complete set that is appropriate for non-professional cooking, this set is highly recommended.
2. Chicago Cutlery Fusion 18pc Block Set
Chicago cutlery knife set
provides you a full set of all you need in your kitchen. The set includes a 3.25-inch paring knife, a 3-inch peeler, a 5-inch utility knife, eight 4.25-inch steak knives, a 7.75-inch chef's knife, an 8-inch slicer, a 7.75-inch bread knife, a 5-inch partoku knife, a 7-inch santoku knife, an 8-inch stainless sharpening steel, and a hardwood block.
These knives are made from high-carbon stainless steel, single-piece with blades are covered by poly handles make them balanced and easy for you to perform different tasks. Black handles with end cap (except for steak knives) makes the design look more attractive. Quick note: steak knives are straight (not serrated).
The grips are very comfortable to hold, yet they're not completely slip-resistant when your hand is oily, though it's fine if your hand is just wet.
Some care instructions you need to know: don't use dishwasher to wash them or else it causes nicks on the blades edge. And also, don't cut through bone or poke and separate frozen food to have the longest use.
3. J.A. Henckels International Statement 15 piece Knife Set with Block
Henkels knife set
, you don't need to find any other single item if you buy this set. There is a 3-inch paring knife, a 5-inch serrated utility knife, a 7-inch santoku knife, an 8-inch chef's knife, an 8-inch bread knife, six 4.5-inch steak knives, a sharpening steel, a kitchen shears and a hardwood block in this set.
One thing I especially like about this set is its single-piece precision-stamped blade provides heavy feeling when holding and long durability. Traditional triple-rivet and steel end cap give the vintage and familiar look in your kitchen.
Just bear in mind that the bread knife, utility knife and steak knives are serrated, others are straight. They are safe to use in dishwasher but like I said, you better hand-wash for the longest durability.
These are made in China but not poorly made at all. They are very sharp; the handles are well-weighted. The only minus point if that the block doesn't fit all the knives that come along in the set.
4. KitchenAid 12-Piece Stamped Delrin with End Cap Cutlery Set
KitchenAid knife set
is also highly recommended for a complete knife set with a relatively cheap price. The set includes 12 pieces: a chef's knife (8"), a slicer (8"), a serrated utility knife (5.5"), a paring knife (3.5"), a santoku knife (5"), a sharpening steel, 4 steak knives (4.5"), a kitchen shears, and a 11-slot wood block. It's a great idea to purchase this set as a gift for your chef friends or your family member. One small note for you is that the steak knives edge are straight.
Blades are made from high carbon stainless steel which give the sharper the edge for perfect cut. Handles are plastic but well-weighted. They are designed for an ergonomic grip and balanced with the blades. Plus, the end caps make the design look even more attracting.
There are 2 colors: black and red. I would suggest you to try the red set if you want to make a highlight in your kitchen. The knives are sturdy and the color is vivid.
These knives are not safe to wash in the dishwasher, stainless steel mostly not. It's best if you can hand-wash with warm water, rinse and dry immediately or else, it might rust easily.
5. Cuisinart C77SS-15PK 15-Piece Stainless Steel Hollow Handle Block Set
First of all, the set includes 15 pieces: 1 chef's knife, 1 partoku knife, 1 utility knife, 1 paring knife, 6 serrated steak knives, 1 peeler knife, 1 bread knife, 1 kitchen shears, 1 sharpening steel, and a wood block.
These knives are made from superior high carbon stainless steels for sharpness and effortless work. Heavy and sturdy bolster which keeps the knives under your control. Since the knife is in one-piece design, its handle is also made from stainless steel, plus, they are hollow so it has the perfect weight balancing to the blade for your comfort.
One idea is to buy this set with the cutlery tray if you are very careful about hygiene issue since you sometimes forget to clean the block and it's also not easy to clean it. And NEVER put it in the dishwasher or else they will get rusted so quickly.
6. Victorinox Swiss Classic 15-Piece Cutlery Block Set
There are 7 options available from 7 pieces to 22 pieces and various in prices for you to choose the most suitable one for your needs.
The blades are made from high carbon stainless-steel allow the sharpest cut and the best control. I have to warn you, these knives are extremely sharp so you might want to consider buying cut resistant or other safety tools so that your friends, children or relatives don't get hurt when they visit you.
Contemporary handle is ergonomic and slip-resistant and matched with lightweight steel creating such balanced design for the knives. Life-time use is one of the most impressive fact about this set. Most customers are very satisfied with the sharpness and the long-lasting feature of the set.
One small minus point for the set is that the wood block is a little bit small for the santoku to fit in. You might have to leave the santoku separately.
7. DALSTRONG Knife Set Block- Phantom Series 'Dragon Spire' Magnetic Walnut Block Holder – Japanese AUS-8 Steel – 6pc- Holds 12pc
So, let take a look at this Japanese kitchen knife set offered by the DALSTRONG. I'm sure that you definitely fall in love with this one and the performance will tell you why it charges you at that price.
The first impression is the polished finish of blades made of the high-end Japanese AUS-8 steel with high-carbon component so that the blades feature the ultimate toughness and strength. This happens because each knife is made from a single piece of steel, so the knives will have the dense and consistent construction. Therefore, you will freely to use the knife for any tasks from the normal slicing to heavy chopping without any damage or deforming the edge.
Besides, the handle is coated with the velvety rich black Spanish pakkawood which can definitely enhance the elegant beauty of the products. Plus, this wood can also help create the comfortable grip that can perfectly fit in your palms. The knives will possibly stick to your palms during the cutting tasks even though your pals are wet. The other great point of this wood is that it does not absorb and keep the moisture, so there won't be the existence of the bacteria which can cause the odor to your palms when holding the knives.
Moreover, the key point that you are always expecting is about the sharpness. As you may know, the japan is famous for making the high-class knives because of the great craftsmanship. The edge is honed with the precise angle of 13-15 degrees so that the blades will have the ultimate sharpness that makes your cutting task easier than ever. You just need to move the blades softly and the perfect slices of meat will be right on the cutting board, even cutting the paper on your hand.
Lastly, the set offers you with 6 knives to help you deal with your daily prepping work professionally such as the 7" santoku knife, 9" bread knife, 4" paring knife and many more. The point that makes this set stand out from the crowd is about the handmade walnut wood block featuring the build-in magnets on both sides. Therefore, you will have the high-end and elegant storage place for your weapons.
8. Utopia Kitchen Knife Set – 12 Pieces – Steel Handles Stainless Steel Knives with an Acrylic Stand (1)
You will definitely have the real sense of profession when using this utopia kitchen knife set. This one is more favorable than the above one because it also offers you with the great performance, but at the friendlier price for your wallet.
I'm sure that this set will be the centerpieces of your kitchen due to the pure and original color of the steel along with the polished finish so that it will shine when you turn on the light in your kitchen. You will receive up to 11 knives such as 8"chef knife, 8" bread knife, 8" slicing knife, 5" utility knife and the 3.5" paring one and six 4.5" steak knives. Therefore, this one is certainly a good deal for your kitchen because you don't need to consider anything else to buy because the set can offer you enough for your daily tasks.
Besides, each knife is completely made of the single piece of food-grade steel with the high-carbon component so that they will feature the great toughness and durability like the Japanese offer above. Therefore, the knives can stand with the force and pressure when you are taking on the heavy chopping.
This consistent structure also prevents the splitting problem happening frequently to the junks on the market because the blade and handle are made from different pieces. Therefore, you will feel more secure when holding the knives to do your cutting tasks. Plus, the curved design makes the handle much comfortable perfectly fit in your palms so that you won't feel any pains when chopping your ingredients.
Moreover, the knives are sharpened meticulously with the precise angle to help them get the ultimate sharpness which can last for long time doing heavy tasks. Plus, there is also an acrylic knife stand included in the set to help store the knives safely from any impacts and also make your kitchen look more professional with this elegant offer.
9. WMF Manaos/Bistro Dinner Knife, Set of 4
You can take a look at this wmf kitchen knife set for enjoying your dinner meals. The 4 dinner knives are completely made of top-quality stainless steel to prevent any rust and corrosion happening. Therefore, you can confidently use the knives to enjoy your meals without tasting them like metal.
Besides, these knives are made from single pieces of steel instead of connecting from different parts. Therefore, the handle won't fall out from the blades like other junks on the market. Plus, the handle is ergonomically designed that can fit perfectly in your hands and does not cause any marks or pains in your palms when you cut the meat or veggies.
Moreover, the slightly-serrated edges can help you cut the meat, chicken easily and also the bread to prevent the bread crumb. After using, you can easily toss this set in the dishwasher for quick and easy cleaning to eliminate the odor.
10. Cuisinart C55-12PCKSAM 12 Piece Color Knife Set with Blade Guards (6 knives and 6 knife covers), Jewel – Amazon Exclusive
If you would like to live up your monotonous kitchen, I'm sure that this kitchen knife set with covers from the Cuisinart can definitely do that perfectly. The set offer you with 6 knives for each particular purpose. These knives have a different color, which can make them stand out from other ones on the market.
Besides, you don't need to worry about the quality and performance of this set because this one is the Cuisinart. The brand has a great reputation for making kitchen utensils and is highly recommended by many pros on the world for your good deal. Thus, this set is completely made of food-grade stainless steel which can help build the strong and durable blades to help prevent from being nicked when taking on the heavy chopping tasks.
Moreover, you can enjoy the ultimate sharpness of the blades for a quite long time because the brand has already sharpened it perfectly to help you do the cutting task much easily. Plus, the blades are coated with the non-stick layer to make sure that you will receive the perfect slices of your meat and veggies.
In addition, this set with the color coding can help you separate each knife for the particular tasks so that you can reduce the risk of cross-contamination and you won't definitely taste your fruits as the raw meat. The curved design of the ergonomic handle helps it fit your palm perfectly, so you don't feel much pains or any marks causes to your palms when you use force. To help you maintain the sharpness as well as protect the blades from any impact which may worsen the performance, the brand also include protective covers designed exclusively for each knife.
11. Knife Set,15-Piece Kitchen Knife Set with Block Wooden,Chef Knife Set with Sharpener,Germany High Carbon Stainless Steel Knife Block Set,Boxed Knife Sets,ROMEKER
I think that this kitchen knife set romeker is the good purchase for the beginners or the homemaker instead of some luxury Japanese set which is widely used my many pros around the world. You don't need to think about buying any knives else because the set offer you with 15 pieces to help you handle your daily tasks with a pure ease.
This set has the same design as the Japanese offer with the pakkawood handle to add a rustic and natural beauty to your knives and the kitchen as well. The ergonomic handles with the pakkawood-coated features help you hold comfortably due to the non-slip grip. Plus, the handle also take on a great duty of balance the weight of your knife when you start cutting and also stand with the pressure and force when you do the heavy tasks.
There are three rivets to stabilize the wood layer and the steel core inside to help feel secure to hold for the high accuracy of your slice. Besides, the whole knife is totally made of food-grade stainless steel which can prevent the corrosion to keep the clean contact with your food and make sure that your meats won't taste like metal.
The top-quality steel also helps the knife get the awesome strength and durability to remain the excellent condition, especially prevent deforming and being nicked when taking on the heavy chopping. What's more? The ultimate sharpness along with the non-stick feature of the blade can help it slide smoothly through your meats, veggies to help you get the perfectly slices and save you much effort for the cutting task.
The polished finish can also help to prevent any scratches on the blades so that it can maintain the original beauty as the first time you bought. After using the knives, the brand advice you to clean all of them by hand because the heat of dishwasher can somehow destroy the handle. There is also pakkawood knife block to help you store the knives safely. By the way, you still receive a sharpener in the set to help you keep your knives in the ultimate sharpness all the time.
12. Cangshan S1 Series 1022599 German Steel Forged 17-Piece Knife Block Set, Walnut
My last recommendation for you is this German steel kitchen knife set. I emphasize the material because the German steel is supposed to be one of the best steels for making perfect knives for your daily cutting tasks. The steel is the standard for the superb-quality along with the great safety for your health. There won't be any corrosion or rust appearing at least one tiny spot so that you can confidently use this set for your home.
Besides, I have to say that there is no need for considering which one is used for veggies, for meats, for bread and for many more because this set can entirely offer you with 17 pieces along with a pair of scissors and sharpener. Included in the set, there is a chef's knife for your multi-task, bread knife, paring knife for your fruits and so on.
Moreover, like other high-quality offers, the performance will definitely knock you out because the blade can cut the paper right in your hand without one slide only. Each blade is shaped and sharpened with the high craftsmanship and same method of the Japanese so that the blades can feature the outstanding sharpness which can also last for a long time. There is also a wooden block to help you store all pieces safely from any potential impact on the blades.
So, let's take in to consideration all of the features I've mentioned and choose the best kitchen knife set for you and your family!