The Best End Grain Cutting Boards For Your Budget
Every well-stocked kitchen should have at least an end grain cutting board for versatile using like cutting, chopping, splitting the ribs, displaying and even being a delicate gift for your friends. However, finding a right end grain cutting board is a super hard stuff, if you've never purchasing one before.
I think that you are willing to spending more money to get one worthy utensil rather than junk for your kitchen. I'll share my experiences on what to look for as well as my personal recommendation of some best end grain cutting boards to help you know more about what contributes to a good end grain boards.
What is difference between the end grain and the edge grain cutting board?
END GRAIN CUTTING BOARD
The end grain cutting board is composed of many blocks of wood arranged vertically and glued side-by-side. Together, the ends of all the blocks make up the cutting surface and its main characteristic is the checkerboard patterns on the surface.
The very fibrous cutting surface is less likely to dull your knife edges because when you cut, the knife somehow sinks into the wood fibers as if the cutting surface can absorb the impact and pressure of the knife blade. Besides, all the blocks are prone to coming back together again when you put your knife on, so they can heal themselves for most of the time. Plus, the end grain cutting board is super good at hiding the cut marks.
This type of cutting board lets the wood craftsmen show off their talent. To my honest, I highly recommend you some end grain boards made of hard wood with tight grain like walnut, cherry, maple because their trunks and color are outstanding and they absorb less moisture to prevent bacteria.
However, the end grain cutting board is relatively thick, which make it quite heavy, so carrying and washing it requires much efforts.
EDGE GRAIN CUTIING BOARD
The edge grain cutting board is supposed to have the shape of typical cutting board because the wood is cut lengthways and glued together, so it takes less time and effort to make it than the end grain cutting board.
Besides, the edge grain cutting board is not as costly as the end grain one, which makes them a more affordable option not hurting your wallet. And due to it lighter weight than the end grain cutting board, you can easily move and clean it.
This board is quite gentle on your blade but not as good as the end grain cutting board. Unfortunately, the board cannot well hide the scratches and you have to usually re-oil it to help the cutting surface long lasting.
My picks
1. Maple End Grain Chopping Block 20 x 15 x 3 ½
I have experienced the products of this brand and they didn't fail my expectations. This brand has a great reputation in making maple end grain cutting board. While using the product, I thought that the utensil was a good value for the money because the cutting board is super durable and hard along with quite large size of 20" x 15 so that you can comfortably cut meat, chop vegetables. Plus, its color is bright brown, so if you would like to brighten up your kitchen, this one is the best choice.
The cutting surface is so smooth and it can resist to scratches as well as prevent your knives from slipping to minimize the risk in your kitchen. Besides, the surface is no-porous, which won't dull your sharp knives. And, the material has an anti-bacterial property that can protect your family's health.
On the top of that, the point that I care most about the utensil is that it is approve by NSF. To achieve that such certification, all the manufacturing process must be tested many times but not a one-time event. Thus, there is nothing on Earth that can stop you from purchasing the implement.
However, to take a good care of the cutting board, you should cover it with a little mineral oil to increase the scratches resistance, which helps the cutting board last a lifetime. And you should know that the product is quite heavy, up to 28,1 pounds, so you may feel difficult carrying and washing it.
Maple is one of the best materials for making cutting boards, so I have spent so much time and effort to gather many high-quality maple cutting boards in order to easily find when in need. And you can check it out if you want.
---
2. Chopping Blox Walnut End Grain Handmade Wood Cutting Board Large – (TRXM)
While Michigan Maple Block is famous for the maple material, the Chopping Blox has a great reputation in making walnut end grain cutting board. The walnut wood is the same quality as maple in terms of durability, longevity, thickness and hardness.
However, the color of walnut is like chocolate and it is darker than the one of maple. The highlight of this wood is that its color can be changed depending on the rate of sunshine exposure. Thus, you will have a feeling of buying one but getting two. So cool, right?
Besides, what I am really fond of this brand is that all the products are made with high craftsmanship, so they will give you a different sense in comparison with industrial products as if you owned the one of a kind utensil in the world.
The cutting board measures 17" x 11" and it is slightly lightweight, about 9 pounds, which is three times as light as the maple one of the brand above. Thus, carrying and washing is not much hard. Besides, there are four rubber gripping-type feet accompanied, which creates a space for you to easily lift the utensil.
I think that this end grain cutting board is lightweight, neat and highly valuable, which can be a deserve gift for your friends, a delicate present. And, you can use it as a displaying platform because its trunks is significant, which can enhance the beauty of your dishes.
However, you need to cover it with a layer of mineral oil before using and you have to wash it with warm water. If you want to diversify your choice, you can check some walnut cutting boards whose quality still meets my expectations.
---
3. Handcrafted Hardwood "Abyss 3D" End Grain Cutting Board Countertop Cutting Board Wooden Cutting Board 3D Cutting Board Christmas Holiday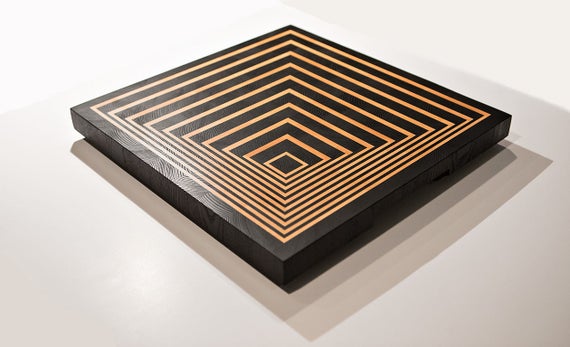 I have to say that here is a breakthrough of end grain cutting board because this is not only a normal cutting board but also a masterpiece. You won't see the primitive color of material because it is innovated into 3d end grain cutting board.
I have to emphasize that this cutting board is unique and it is a limited edition. Thus, I'm sure that this one will be a spotlight in your house. You know that the pattern on the cutting surface is made with high craftsmanship and you can see different things by alternating your angles. Sometimes, you can see everything centralize in a point, but you can see a pyramid from different views. How awesome!!!
Many people think that the outside beauty particularly hides the inside drawbacks like the material. However, credit where credit's due, the cutting board is a perfect combination of walnut and maple, so all the features are doubled like double thickness, double durability, double harness and it will last "double" lifetime!!!
Besides, you can cut meat or chop vegetables on it, but you have to cover it with mineral oil to resist scratches. Plus, this product is not very large, just 17.5" x 17.5" and it comes with side lifting grooves and optional rubberized grip feet, which helps it be carried easily and not slip to other places during using.
Wowza!! What are you waiting for? Take your credit card and get one to liven up your house!
---
4. John Boos Cherry Wood End Grain Butcher Block Cutting Board with Juice Groove and Stainless Steel Feet, 18 Inches x 12 Inches x 1.75 Inches
When you need some advice from other people and some famous cook about how to choose a right cutting board, I'm sure that you will possibly get the same answer is go to the John Boos and you can yourself find out. From the first time, I also didn't understand why they said that, but after searching about this brand, I totally placed my faith in it because all of its products are made meticulously with high-quality materials and sold at a budget-friendly price.
And I would like to introduce you this cutting board because many customers have the same consideration as me that the utensil is one of the best end grain cutting boards. The implement is made completely from cherry wood, whose quality is the same as maple and walnut. The highlight of this product is the characteristically reddish brown color of cherry wood, which make this product stand out from the counterparts.
Besides, the cherry end grain cutting board also has a groove channel all the way around the cutting surface, which can retain food liquid from dropping out on the countertop so that you can cut juicy food without leaving your kitchen messy.
Plus, there are four feet covered with a layer of rubber at the bottom, which prevent it from slipping and you can have a standstill foundation for heavy-force blades. Moreover, it measures 18" x 12" and is not very heavy, just 10 pounds, which helps you carry and clean without much effort.
I have to confess that I used to hesitate to purchase this boos end grain cutting board because it was too expensive, but after using, it changed my mind and I'm sure that it is a good value for your money.
---
5. Madeira 1030 Canary Teak End-Grain Carving Board, Large
The Maderia brand has launched to the market an outstanding end grain carving board which attracts tons of customers. The spotlight of this masterwork is that it is entirely made from remnants from other Teek products discarded during manufacturing. You may wonder that the remnants are unusable or have some severe mistakes, but it is the subtle combination of marvelous trunks of the Teek wood that creates a masterpiece of "perfect imperfection".
To my honest, if this cutting board appears in front of you, your breath will be taken promptly!!! Teek wood is one of the best woods for making chopping board because it is hard, dense, and able to suffer heavy pressure. Besides, this type of wood can resist bacteria so that you will feel secure when using it to cook meals.
The utensil measures 18" x 12", so the cutting surface is quite large and you will comfortably cut meat, chop vegetables without worry about making the countertop messy with debris. Plus, this one is super versatile, you can use it as a normal cutting board for both daily cooking and weekend party with roasted beef because there are trenches capturing food juice on the surface.
Another good point is that it can play a role of the serving tray with a spread of cheese, steak, slices of bread, muffins and so on. Thanks to the outstanding patterns on the cutting surface, your decor will become more appealing and catchier. Notice that this carving board only breaks when you have intentions of breaking it.
I think that you won't regret spending the deserved amount of money on such an extremely aesthetic utensil.
---
6. Top Chop Butcher Block Reversible End Grain with Blonde Stripe Cutting Board, Walnut, 24″ x 18″ x 2″
Top Chop Butcher Block is not a foreign brand to those who love cooking because its products can meet many requirements that both housewives and many master chefs have looked for. And, I have to admit that the manufacturer be so artistic that the product withdraws all my attention and you will possibly have the same feeling!!!!
He is very smart when combining walnut and maple, and in this cutting board, the walnut is the main "actor" while the maple gets his back, but it is the contrast color of these woods that makes the cutting board more astonishing. How delicate the colorway is! Plus, this is a reversible cutting board, so you can take turn to use both sides of this product, which can help them rest and self-heal.
The utensil is available in 4 sizes and the largest one is 24" x 18", which give you a comfortable cutting surface but is quite heavy, up to 18 pounds. Thus, I recommend you the smaller ones for easy carrying and cleaning-up.
---
7. Catskill Craftsmen Super Slab with Finger Grooves
If you have a taste in some cutting boards with dark color made from walnut, you can take a look at the product of Catskill Craftsmen. The color is also brighter than one of maple, so it can light up your kitchen during summer days.
This end grain cutting board is quite special because it comes in the square shape with the size of 20" x 20" so that you can cut meat, chop vegetables without difficulties. Besides, there are finger slots on two sides which help you hold easily. And the end grain structure can withstand heavy force, so it won't dull your knives.
Plus, this cutting board with groove absorbs less moisture and smell, so you don't to worry about muffins tasting like cheese. However, you may feel difficult in moving it from one place to another because it is relatively huge and heavy. Thus, you can take this into consideration before making a decision.
---
8. Prosumer's Choice Large Bamboo Cutting Board w/ Knife Holder and Device Stand | End Grain | 2" Thick
You must be surprised when seeing this integrated end grain cutting board. It is totally made from friendly-to-environment and renewable material, which is safe to the Earth. Besides, this is approved by FSC, which means that the material is pure, non-toxic, and safe to your health. And, the bamboo is known to have anti-bacterial properties and resistance to mold development.
Next, the amazing innovation is that there are two removable sections: one for holding devices and the other for keeping knives, which keeps your "weapons" always clean and ready for using as well as gives you an opportunity to look up the recipe or watch some cooking video. How convenient!!! And this make the cooking become less and less difficult.
Besides, it measures 15" x 11.75", not including two portable sections, which provides you a comfortable cutting surface. And there are groove channels all around the surface to trap food juice from settling underneath the chop block as well as four rubber feet accompanied to keep the bamboo cutting board standstill and you will possibly be safe when using it.
The cross-checkered patterns on the surface will give you a sense of both tradition and modernity and it can be used as a cheese board to serve your guests. Plus, the material helps it be easily cleans and taken care of.
I have favoritism for this utensil because it is fitted to my taste, mixture of concepts, and it is regarded as one of the best end grain cutting boards I have ever used.
---
9. Walnut Cutting Boards End Grain Hardwood Butchers Chopping Block Size: Small 9×12 inch
I assume that you will be speechless when seeing these sturdy "bars of dark chocolate". The product is completely made from natural walnut, and kept the primitive color, so it is super hard, dense and durable, which will be gentle on your sharp knives. And this implement is so multi-functional that it can be used for cooking, culinary and food service industry.
There are 4 options of size for you: small, medium, large and extra-large. But, the medium size is highly recommended by many customers because it is fitted to most of kitchen with the size of 18" x 14". And the med-size is not very heavy, about 10 pounds so that you can lift and clean it without much effort.
Plus, it is a reversible cutting board and you can take turn to use both sides for its self-healing. Moreover, this "dark chocolate" will last a lifetime if you take a good care of it. Notice that you have to wash it by hand, not soak it in the water and say no to dishwasher.
---
10. Ironwood Gourmet 28217 Large Charleston End Grain Prep Station, Acacia Wood
Acacia wood is also included in the list of best woods for making cutting board. Many acacia end grain cutting boards have a rustic look because its trunks are relatively awkward and incredible.
This cutting board measures 20" x 14", which give you a large cutting surface to help you comfortably cut and chop without making small pieces drop out. Although the utensil is quite huge, it just weighs 7.2 pounds, so you can use it as a serving tray because of its easy carrying.
This type of wood should be washed with warm water and left in place where air circulates to make it dry totally. And the cutting board absorbs less moisture, which can resist bacteria to protect your family.
I think that the implement really bangs for your buck because of many marvelous features of material, unique patterns, high versatility. Thus, get one for your home before too late!!!
I know that purchasing a right end grain cutting board is not very easy because it depends mostly on your budget, but bear in minds that you always face the trade-offs. Thus, my devoted review hopefully never lets you down!