How to Choose a Corner Wine Rack to Level up Your Living Space
When talking about storing wine, enthusiastic wine lovers understand what are the vital factors that affect to wine quality. Those are the constant temperature, stability, light, and humidity. Hence investing in a professional-grade storage is essential in keeping your bottles where they belong to.
A corner wine rack gives a convenient way to store and organize your wine. Wine racks nowadays are available in various designs and fashion that suit for both home and commercial use. I made this list to gather the top choices on the market which have gained positive feedback and among the most considerations. Stop keeping your wine collection in cardboard boxes and start displaying your proud brands like any wine connoisseur.
1. Align Wall-Mounted Vertical Wrought Iron 9 Bottle Wine Rack by True
Let's begin with this streamlined and simple rack. A combination of simplicity and a real bargain.
It is suggested that storing the bottles horizontally is important. Because when the bottle is sideways, it makes contact with the cork and keeps it wet. Wet corks prevent the content inside from premature oxidation by air rushed in as corks shrink up.
Therefore, this align wall-mounted wine rack allows you to store your wine across with a bit level up at the bottom to make the liquid in touch with the cork. This product brought in wrought iron painted in mere black with a capacity of 9 bottles. It delivers one piece ready to mount on a wall. Screws are provided. It works efficiently for red, white wine and sparkling bottles. The minimalism concept lets you turn the labels out showing them with no obstacles. This frame's height is total in 37.25 inches and side to side is 9.5 inches. This holder's width can load regular size bottle with cylinder shape. Some buyers stated that bottle with strange appearance would not stay fit to this frame.
With this unique design wine rack, it is a solution for those who don't prefer covering their walls with a cumbrous wooden rack. Moreover, small places with nook area can take advantage of this frame to refresh one corner. You can either place your bottles with all opening on one side or have them face in two opposite directions. I even see people own a set of two racks, then set them on two sides of a painting or TV that result in an astounding look. This rack gives you a chance to use your infinite creativeness to store wine.
A plus for this bottle wine rack is the undebatable price. Now you can store your wine with style, saving space meanwhile not hurting your bank account. Don't forget to share the good with people around.
---
2. Wall Mounted Metal Wine Rack 4 Long Stem Glass holder & Wine Cork Storage By Soduku
For an even more budget wine rack with additional functions, Metal Wine rack by Soduku can't be off the list. Admittedly, this rack is my most favorite corner wine rack ever not only for its multitasking features but also its decent value.
Soduku wine rack with letters H-O-M-E are made of metal and finished with black. This rack can hold up to 5 bottles with some organizing. Compact measurements of 17.5″L x 7.3″H is one of its major offerings. The depth of 4.8″ permits larger bottles than 750 ml can stand on the frame. This snug size helps users to install the item in a nook to make it a spotlight no one can miss. The height of the letters, however, doesn't cover all the way to the bottles' labels so you will be able to display your preferred brands in pride.
Furthermore, this corner wine rack furniture makes space for 4 stem glass hanging beneath with glass holders. This frees you from storing bottles and glasses in two different places, helps you reach a drink in a single move.
The cork storage is the feature I admire the most. Right under the bottles, you can keep the corks from opened bottles that carry stories you want to memorize. The storage is secured with a little side door with a tiny knob for easy access. Such an adorable and brilliant idea. Besides, the manufacturer has made an improvement on the cork area door to make it easier to open.
The price of this rack can't be better while other similar items cost more than 10 bucks. This will surely make a beautiful gift for anyone you love. Don't wait any longer to leap your kitchen to a whole new level with this wine rack.
---
3. Sorbus Wine Rack Stand Bordeaux Chateau Style – Holds 23 Bottles of Your Favorite Wine
If you are in need of a larger rack to hold more bottles but still remains a deal, then this wine rack holder should satisfy your requirement.
People with a French vintage taste would love the sleek look of this wine holder. Assembled, free-standing with an arched top rack that holds 23 bottles horizontally ready for immediate use and will add charm to space. The Sorbus rack consists of 8 rows and 3 columns, each row holds 3 bottles bent its prow upwards to keep the corks wet. With the height of 33 inches, you can place this rack right on the floor or under a countertop where it pleases your view. The portable rack has a handle on the top which is a handful for rearrangement. You can move it around with ease. The wine holder works for standard wine bottles, port bottles as well as sparkling bottles; champagne bottles would not fit.
Despite constructed of thin metal, the wine rack owns a sturdy built enough to support full 23 bottles. When placing this rack on the hardwood floor, you should have foot slides so it won't cause any scratch with its sharp stands.
This Sorbus corner wine rack is an outstanding economical way to converse space in your house while adding compliments to the place where it stands. It is recommended as a perfect gift for a housewarming celebration, the receivers will love it. Costing less than a pair of shoes, this wine rack should be a MUST for anyone to start their wine collections.
---
4. Tabletop Corner Wine Rack 4 Bottles, Natural Wood, Minimalist Home Decor, Christmas Gift for Him Men, Rustic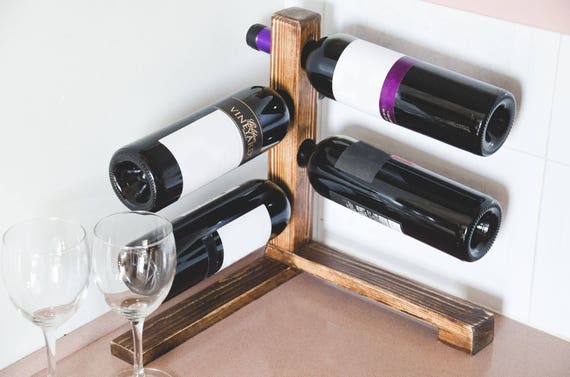 Adhering with minimalist design, this crafted piece of work made a wine rack of simplicity from natural pine wood and an affordable rate.
This wine holder gives me the feeling of a Descartes coordinate plane of xyz that illustrates a 3D background in mathematics. So, the plane comes to life as a rustic wine rack that can hold 4 bottles at the necks creates a square angle with the center stand to keep them hovering-like off the axis. What makes this item unique is it's handmade with preferred color finish upon request. Made of 100% natural pine wood produced a durable stand with solidity. Plus, this rack has a literal compact size that perfectly fits in any nook corner in your hand's reach. Plug it in a couch corner and you can enjoy your drink while sitting relaxing with no interruption.
The item is delivered in assembled piece requires no installment. It is ready to get attention once unboxed. If you're tired of industrially produced items that all look the same, this handcrafted wine rack is a great choice. Consider it if you have a big collection, but I imagine if you don't need to exhibit every one out of the gallery once in a while, this rack will do the job. Select the 4 proud labels and set them where it catches eyes and ready to impress your visitors.
Handmade items usually cost a handful of money but not this wine holder. It charges an acceptable price for such a simple but creative concept. Make this rack a present will score yourself to anyone who receives it.
---
5. Kaydian Krafts Countertop Wine Rack – 6 Bottle Decorative Tabletop Wine Bottle Holder – No Assembly Required – Espresso Brown
Another stunning piece of art worked on wine holder for your countertop. The Kaydian Kraft Countertop wine rack has earned its place in the market. Not being a sophisticated instrument, but very thoughtful and arrogant. That is what I feel about this wine rack. It's time to give your table or countertop an X.
The first to say is this wine holder guarantees a lifetime use with its heavy duty built. A well-built X that stands firmly on any flat surface. It's constructed with high-quality natural wood then coated with faux leather. The rack can contain up to 5 bottles horizontally while retaining the quality of the wine taste in its excellent pristine. As this item comes in full assemble, there is no further task needed to set up for use but choosing a bright spot and add your majestic brand bottles on it. No need to discuss its compact size, this rack from Kaydian Krafts stand ideally anywhere from a countertop, coffee table, cabinet, kitchen island, bar to a wine cellar. Not only conversing space, it also distributes a delightful touch that matches any home setting.
Beyond a promising complements décor, every Kaydian Krafts product comes with 30-day money back guarantee and 6 month 1 by 1 replacement warranty. This wine rack is a flawless combination of elegance and functionality. Thus, it would become a surprising gift on every occasion. Your beloved ones will not be happier to get this.
---
6. Oceanstar WR1132 12-Bottle Dark Espresso Bamboo Wine Rack
The last table top corner wine rack I would like to introduce in this list is this rack from Oceanstar Design Group.
This is an intricate design will take you to an assembling game which is fun and hassle-free. Both screws and a puzzle spirit needed when it comes to joining the pieces together. The mixture of 95% bamboo and 5% metal is what makes this wine holder a classy look yet contemporary. Moreover, this combination of material gives the product an exceptional light weight of a mere 2 pounds. Oceanstar wine rack can hold up to 12 bottles on its curved panel shelves which meant to prevent bottles from rolling out of the wine rack. The slanted panels separate bottles so they won't clank to each other. Bottles held parallel to the ground allows the corks to remain moist and swell to keep the content from unwanted oxidation. What's more? Sediment won't be in contact with the corks to save your wine from spoilage.
This wine rack has the dimensions of 15.8 inches in H and 11.75 inches in W make it an item that can stand neatly on your countertop as well as being a complement décor to match any of your styles. About the color, it's finished with dark expresso to give a rustic look to your corner. Once the pieces come together, the rack can't be sturdier, wine bottles of 1 mL and below would fit in well on the shelves. This rack can load 12 full bottles with no flimsy movement.
Speaking of my personal thought, I feel this wine rack look like a Japanese sword mounting because the shape of the curves mimics the look of a Katana.
I can't expect a more economical price than the price this rack has offered. For such a unique outlook, bring this rack to your friends' birthdays or your Father's day dinner to make the day even more meaningful.
---
7. Winsome Wood Wine Tower Espresso Finish
The rest of this list I will talk about wine racks that are non-portable. To start with it, I'd love to introduce this Winsome Wood wine tower that offers a multifunctional wine holder.
It's called a wine tower for a reason. The rack is about a person height at 67.30 inches. The top shelf offers a stemware hanger. Because of this height, this corner wine cabinet comes in pieces that you have to put together. There are 18 individual slots to store the same amount of wine bottles of 750 mL, while above stays a drawer for accessories like corkscrews, bottle opener. The two shelves are available to keep opened bottles, plates, and other drinking stemware.
The wine is very useful in several functions in which you can serve drinks fast in one place. The width of 17.30 inches doesn't take up much place instead standing solemnly in one corner. The clearance has specifications of 13.78″W x 15.55″D which gives enough space for extra items and it's 13.46″ tall which is sufficient for a standing bottle. This wine tower is completed in espresso color to give an antique look that matches any decorative style.
Compare to other similar items, Winsome Wood wine rack owns a fair price for a large piece of décor. The material is from composite wood with high quality makes this wine rack fits the bill. If you're not concern about your budget, I highly recommend this corner wine rack for your home.
---
8. Burley 15 Bottle Floor Bar with Wine Storage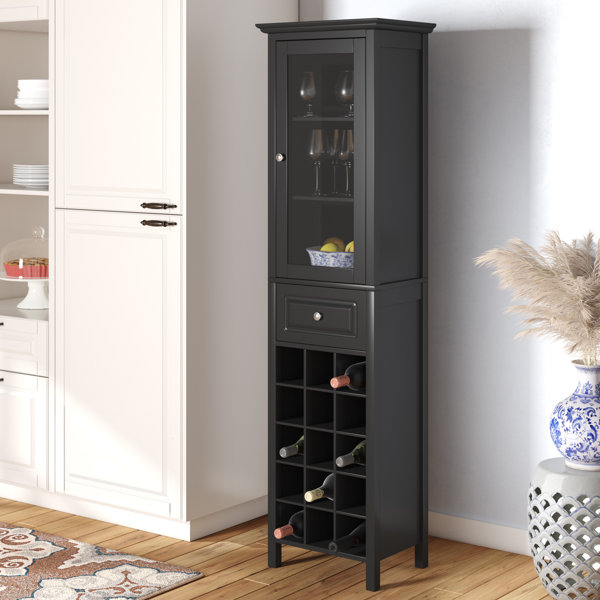 A more luxurious pick in this list should go to this Burley wine storage made from wood with black finish. This wine storage does a great job of adding a vintage touch to your living corner.
Burley wine rack is made of composite wood that gives it a solid look right from the outside. This floor stand wine bar includes a cabinet with a glass door to keep and display your stem while handling it with ease. The cabinet consists of 3 interior shelves that converse great space for stem glasses to keep them away from dust and turning opaque with time. Showcasing space for 15 bottles beneath a drawer for drinking instruments.
When it arrives in your hand, it requires assembling with tools provided, however, it won't take you a whole day to accomplish the task. When it comes to aesthetics, this wine rack gives its owner a traditional yet appealing and vintage inspiration combine with a clean-lined silhouette that fit any adobe. In general, Burley wine rack has everything needed to curate a place of all style.
Additionally, this wine rack offers a premium protection plan that covers accidental stain and damage including rips, tears, chips, dents, watering, etc, unlimited full repair and a 30-day money risk-free refund.
You get what you pay for. I know this rack doesn't stand on the cheap side but it is worthy and sure won't make buyers regret. As you have an option of returning it in 30 days, why bother hesitating giving it a try?
---
9. Winsome Ancona Wine Cabinet with Glass Rack
Ancona Wine Cabinet with stem rack is one piece in the collection of 3 units to make a complete collection. Yet, it works its own function when stands alone as well in any style.
Winsome corner wine rack delivers a unique look to match any fashion of the homeowner. The wine slots are able to contain 20 bottles with glass hanger above makes serving a drinking in hand's reach. Assemble required when it arrives but people have said the process is effortless. An Allen wrench is included in case you don't one. A very thoughtful pack. The measurements of this wine rack come in 19.1 x 12.6 x 37.5 inches which would fit snugly at any corner with the corresponding size. In spite of coming from a modular completion, this wine rack alone does the job just like any wine rack storage and doesn't need to go with its other parts side by side. The minor drawback of it is the instruction missing in the delivery may cause people a hard time putting it together, but you will find it a no tough process and worth the finish.
The rack looks pricier than it costs and even better if it comes in full. A good value for a corner wine rack cabinet that will give you a decent wine corner once it's done. Personally saying, this item with its price fits the bill.
---
10. Mullikin Bar With Wine Storage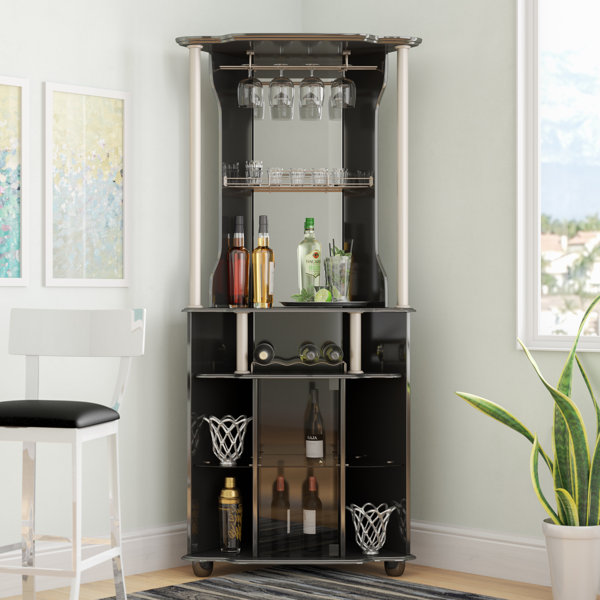 I save this one for the last because I was thrilled by its appearance and well design. Mullikin Bar with wine storage will complete my list.
With this wine storage won't stand anywhere but a corner where you will host a cocktail party with full of proud and pride. This bar is designed with a twist of classy taste yet contemporary and well-fitted any home style. It features in holding several bottles in either vertical or sideways position. A stemware rack on the ceiling offers space for wine glasses while under it is where you will keep brandy cups. A cabinet with glass door brings a display area to privilege labels while the two sides bring space for other bottles or decorative sculptures. The overall size of this wine holder has dimensions of 70" H x 31.5" L x 18" D with 8 shelves for you to fill in your collection. The hardware material made is out of what I've acknowledged, brushed nickel which gives the round poles a shiny highlight of matte silver while the shelves are made of wood to generate the vintage look. The quality of the well-crafted materials is premium. You should get ready to receive plenty of compliments for this wine bar.
It is understandable why this large piece demands some work to assemble. A screwdriver should be at hand and you can get the job done in smooth. The manufacturer doesn't want to give a full piece for it's easy to get damaged on the shipping way to your door. However, this product comes with a protection plan that covers every damage while using and a guarantee of 30-day full refund unless you don't like it.
Notwithstanding the cost of this item, I would definitely add this exquisite wine bar to my home. This will be a perfect hotspot for your living room that worth every penny.
All in all, most wine racks do its job to curate the bottles for the best quality. However, to bring your collection to visible, a corner wine rack offers the ultimate solution to get people talking about your collection. It additionally accentuates the beauty to your living space in particular aesthetics. I hope my list would help you determine what to pick and have a relaxing time out of the noisy market.